In my family, the Super Bowl is considered a holiday. Not on the par of Christmas or Easter, but certainly up there with New Year's or Fourth of July. Since 1969, my father's family has been gathering on Super Bowl Sunday for a party. It started as a small gathering of aunts, uncles and cousins, and over the years it grew to include grandchildren and great grandchildren, second and third cousins, in-laws and friends. For my brother and I, we have never known a Super Bowl game without a family Super Bowl party.
Now for 2012, my brother and cousins and I have picked up the baton to carry on the tradition. We're officially the third generation to host the party, since our parents had taken over hosting responsibilities from their parents several years ago, so we're calling it "Super Bowl Gen 3.0." In this age of social media and mobile connectivity, we're using a Shutterfly Share site for RSVPs and food sign-ups, and I have been busy roaming Pinterest for ideas. Here are a couple of things we'll be enjoying at our party.
A little banner to greet guests at the door:
Thanks to
Living Locurto
for the free printables. I did a little cut-and-paste to include "2012" and our "3.0" for the middle one.
Garland decorations
using the printables again:
Super Bowl Snacks:
These things were all over Pinterest for Christmas as Reindeer Noses or Rudolph Noses (and I see them popping up again for Valentine's Day and Easter), and they were a big hit with my family. So I thought why not change up the colors and re-invent them as a Super Bowl snack? I'm calling them "Coughlin's Crunchies" in honor of the Giants' head coach, who was also the coach for Boston College while my husband and I were students there.
Super Bowl Bingo Cards --
a free printable from
Studio DIY
: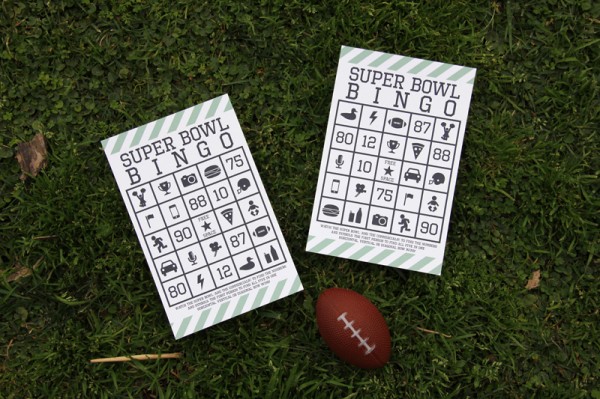 (Photo from Studio DIY)
Here's to a happy Super Bowl day!